WHITE PAPER
Dos and Don'ts of TMS Selection and Implementation
Transportation management system software selection and implementation can be a daunting task for some companies, but there are several "do's" and "don'ts" that can ensure the project goes smoothly.
Fill out the form to download the white paper.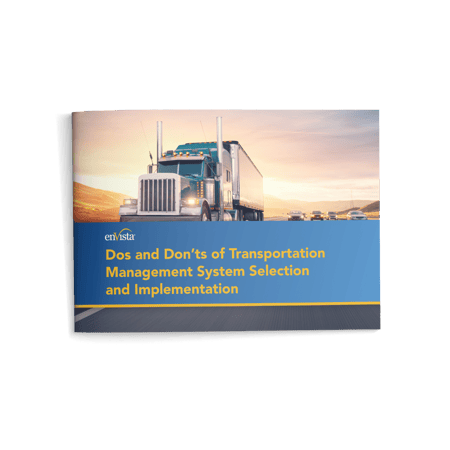 Building the Business Case For a TMS
Adoption of a TMS can provide many benefits to companies as they seek to improve their transportation management. A TMS provides improved transportation planning, optimization capabilities, increased accuracy upon execution, greater visibility to auxiliary carrier capacity, reduced maverick spend, greater visibility throughout the process, improved workflow management and exception handling, and improved auditing time and accuracy.
This white paper will address several "dos" and "don'ts" that will ensure the project goes smoothly. Some dos and don'ts to consider include:
Do conduct internal, on-site visits with the user-base to build out the requirements documents

Don't rule out a multi-vendor solution

Do consider pulling a super-user from engineering or process improvement

Don't underestimate integration requirements with both internal and external systems
Fill out the form to unlock all the dos and don'ts of TMS selection and implementation.
Ensure a smooth project from start to finish.
These leading brands know us. You should, too.